The Royal Household and Administration
The administrative organisation of the Tyrconnell realm depended heavily on the application of and recourse to ancient Brehon Law, including leadership succession by elective competition, under the principles of tanistry within an immediate kinship group, the derbhfine, and on the hereditary functional roles of particular tributary families. Within this framework, the Royal Household was known in Gaelic as "Lucht Tighe" and comprised several offices that were performed on a hereditary basis for over four centuries largely by the heads and members of these families:

Lector and Inaugurator of the Chieftancy: O'Friel
Gallowglass and Standard-Bearers: McSweeney
Marshall of Hosts, of Cavalry: O'Gallagher
Custodians of the Cathach of St. Columba: McRoarty

Historians and Scribes: O'Clery
Brehons or Judges: Breslin and McGilshenan
Bards and Poets: Ward
Physicians: Dunlevy
Stockmen/Cattle Drovers: Timoney
Other customary tributary family positions included the following:
Bailiffs: McGettigan
Harper: O'Ciaragain
Steward: MacLinchy
Seneschal: McGonnell
Butler: O'Cullinane
Servant: Crawford
Dynastic alliances
In late Gaelic Ireland, far from the in-breeding of some other cultures, a complicated web of considerable genetic diversity emerged as a result of the increasing frequency of intermarriage between Gaelic, Norman and Old English stock.
This was the underlying reality behind the old adage of the relative newcomer becoming Hiberniores ipsis Hibernis, more Irish that the Irish themselves, adopting not only Gaelic language, dress and manners, but adapting names as well, e.g. FitzMaurice becoming Mac Muiris. Gaelic lords fostered their sons not only to other families and clans, but even to those of Norman and Old English origins, and vice versa.

Inevitably, dynastic marriage became equally cross-cultural, as both sons and daughters became the agents of strategic alliances between great families of different origins. Both fosterage and dynastic marriages strengthened the socio-political power-base for members of the derbhfine to compete for the position of Tánaiste, tanist, and eventually succession as Taoiseach, chieftain. The strongest or most capable, and not always the eldest heir, succeeded on the enabling basis of prevailing political support, and the prospect of military supremacy.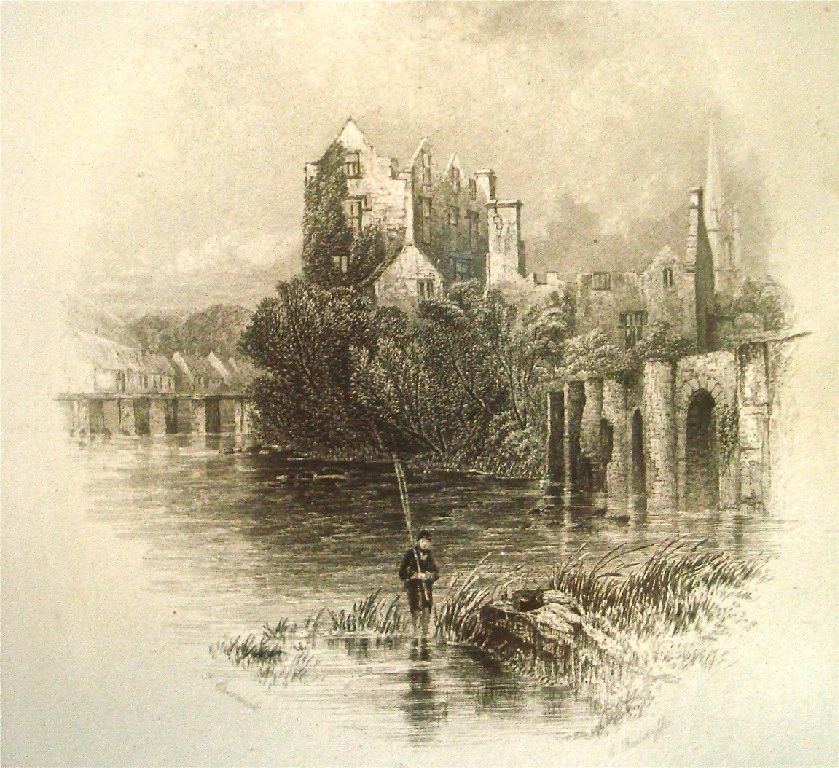 The Castle in Donegal, capital of the Kingdom of Tyrconnell, was the seat of government of the O'Donnells, and the home of Sir Hugh Dubh MacManus O'Donnell, 23rd O'Donnell, King and Lord of Tyrconnell, and of his eldest son, Sir Donal O'Donnell, Seneschal of Tyrconnell and Sheriff of Donegal. The latter was assassinated in 1590 at the battle of Derrylaghan by his Scottish step-mother In
í
on Dubh
in a coup she mounted with her Scottish gallowglass mercenaries to prevent his succession to his father and to usurp power for herself and her first-born, Red Hugh O'Donnell. Sir Donal's son, Donal Oge was reared here by his grandfather, Sir Hugh Dubh, and after his retirement there in 1592 probably also in the nearby Franciscan Friary, until the latter's death in 1600. Sir Donal's personal lordship was that of Boylagh and Banagh (T
í
r Bogaine/
Baghaine
), to which his son Donal Oge succeeded. This lordship descended to the O'Donnells in France, the last Counts of whom died in 1879.


Other Tyrconnell lordships descended to relatives: Sir Rory O'Donnell, 1st Earl of Tyrconnell held the Barony of Donegal, and his son, Hugh Albert, 2nd Earl also claimed the Barony of Lifford, as well as the Lordship of Lower Connaught, which was however lost in the Composition of Connaught in 1585. Other more distant relatives hailed from other parts: Brigadier Daniel O'Donnell from Ramelton in the Barony of Kilmacrenan, Colonel James Bruno O'Donnell from Ballyshannon in the Barony of Tirhugh, and others later who were transplanted or migrated further afield to Mayo (Newport, Castlebar, and Oldcastle), Leitrim (Larkfield), and Roscommon (Greyfield), and other locations, and with émigré branches who established themselves and obtained various titles in Austria and Spain.