Over the centuries, the nobility of several diaspora O'Donnells has been recognized abroad in countries such as Austria-Hungary, Belgium, France, Italy, and Spain, and by the Holy See, as Irish Princes, Counts (Earls), and Barons, and some have also been granted foreign titles as Viscount, Count, Marquess, or Duke, as well as been invested into various orders of knighthood, papal, dynastic, and sovereign. Beyond that, some have served at home or abroad in high office such as: Cardinal (Ireland), Archbishop (Ireland, and Newfoundland), Governor (Cuba, and Transylvania), Field Marshall (Austria), General (USA), Senators and Minister (Ireland), or Prime-Minister (Spain).
As he introduced his chapter on Field-Marshall Leopoldo O'Donell, Duke of Tetuan and Count of Lucena, an American military historian in 1874, James McGee, typified a eulogistic approach to history with a somewhat exaggerated account of O'Donnell achievements:
"There is no family of Irish birth or extraction that has not been more generally distinguished at home and abroad for high military qualities and personal nobility of conduct than that of O'Donnell, or as it was called in medieval history, Cinel Conaill. Other houses, like those of O'Neill, O'Brien, and O'Conor, possessed wider domains, exercised at times broader sway, and occasionally produced soldiers and statesmen of greater abilities and more enduring fame, but to the O'Donnells belongs the transcendent merit of having been ever and in all places consistent lovers of Ireland, enlightened patrons of learning, and devoted as well as practical adherents to the ancient faith. Almost without exception, they were found on all occasions faithful even amid the faithless, and when others were willing to sacrifice the general good for the sake of private ends, or to gratify individual malice at the expense of principle, the princes of Tyrconnell invariably were to be found true to the national cause, literature, and religion".
Much has been written by the well-known branches of the noble O'Donnells of Tyrconnell established in Donegal, and later Mayo, and beyond in Spain and Austria with their various Spanish and Austrian noble titles. Both the Flight of the Earls and the later Wild Geese are also well-researched, as well as the service of Irish soldiers in various regiments in France, including at one time the Régiment d'O'Donnell, and in particular Brigadier-General Daniel O'Donnell of Ramelton, who died without male heirs in 1735 (his daughter died five years later), and who bequeathed the "Cathach" (St. Columba/Colmcille's Psalter) to whoever could prove himself head of the Clan, by agnatic descent. He was well aware of competing claims to that honour, and of the difficulties of documenting their validity, especially for those other Jacobite Irish in exile. It has been said that the O'Neills and O'Donnells were among King James's cavaliers at St. Germain. Little however is known of the family that comprised at least four generations of Counts in France up to their extinction in the male line in 1879.
To get a flavour of their pre-eminence amongst the Irish diaspora in France, one has only to note that Jean-Louis Barthelemy, Comte O'Donnell, also presided over the annual dinner of French descendants of Irish exiles, the "men who preferred exile to dishonour", held at Lemardelay's salon in the rue Richelieu in Paris, under an engraving of Daniel O'Connell and the harp and arms of Ireland. These annual dinners were already a tradition dating back a half-century earlier to the early 1800s, at least. A description of a later occasion, held on 16 May 1864, refers to him thus: "at seven, the chair was taken by the venerable Comte O'Donnell, former Councillor of State". His son, Sigismond Anatole Vicomte O'Donnell, also attended. The ranks of other French nobility of Irish extraction reads like a list of former proprietor colonels of Jacobite regiments of the Irish Brigade in France. A toast was proposed by M. Quin, a member of the legislature (originally delivered in French):
"Drink, then, to Ireland, gentlemen – French by birth, French in heart, but Irish by extraction, our ancient country is dear to all. Ireland and France are, in fact, two sisters united by the strongest sympathies. They enjoy a community of sentiment, their characters present more than one phase of resemblance: they profess the same faith, and they have often mingled their blood on the battlefield. Was it not France that received those noble emigrants whose fidelity was requited by exile? These Frenchmen, by adoption, have proved themselves worthy of their new country. When and where have they not rendered their names illustrious in the service of France? Here in this hospitable land they preserve as a proud legacy the memory of their ancestors. Let us remain faithful, gentlemen, to this religion of the past, keep intact this precious deposit we have reserved from our fathers, and transmit it in our turn to our children as a patrimony of honour. Gentlemen [to] – Ireland!"
It was the venerable chairman, the 81 year-old Comte O'Donnell, who had requested that toast, and it was undoubtedly in his honour that the Vicomte O'Neill then recited his version of "O'Donnell Abu". Press reports of the event referred to these O'Donnells and others present as representing "the great families in Ireland". As the records of the Conseil d'Etat also indicate, there was no doubt that they were "de la grand famille d'origine irlandaise", i.e. of the O'Donnells of Tyrconnell. The Comte O'Donnell was in fact recognized as "Chef du Nom et d'Armes", i.e. Chief of the Name and of the Arms.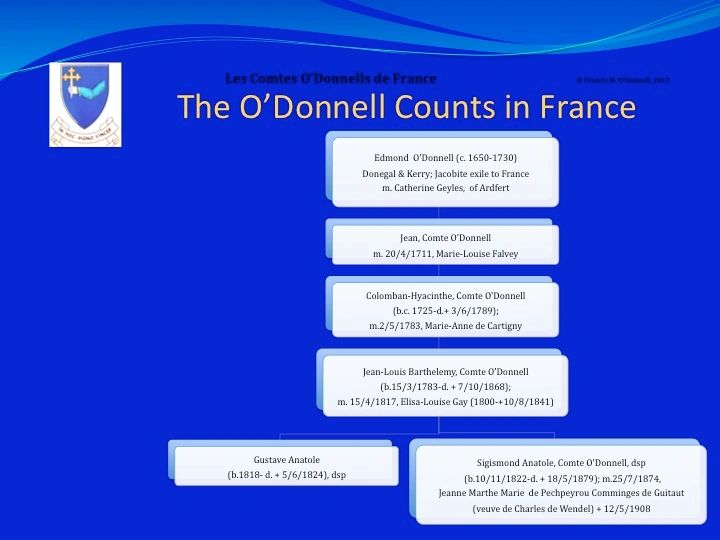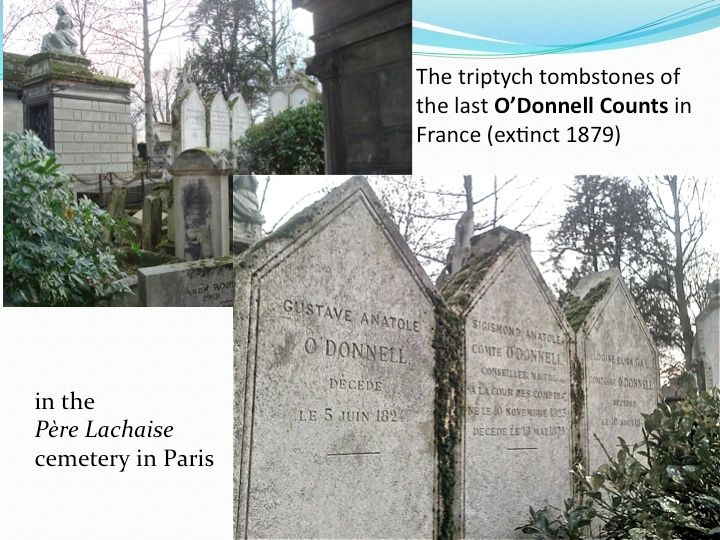 The triptych tombstones of the last O'Donnell Counts in France in the Père Lachaise cemetery in Paris. Their closest associates in life lie in repose in adjacent tombs. The cimetière du Père Lachaise is also the last resting place of Appolinaire, Balzac, Bizet, Callas, Chopin, Corot, Ernst, Héloise and Abélard, Lalique, Molière, Piaf, Proust, Rossini, and Oscar Wilde, and is reputedly the world's most-visited cemetery.