The MountCashel Brigade and the O'Donnell Counts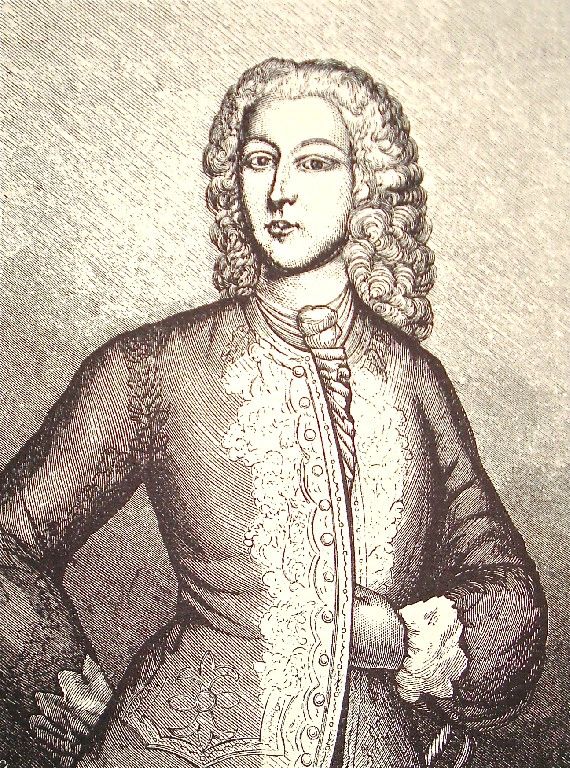 Justin MacCarthy of Muskerry, Viscount Mountcashel
From a portrait in History of the Irish Brigades in the Service of France,
by John Cornelius O'Callaghan, London, 1870.
Lord Mountcashel was Patron of the 1st Irish Brigade in France, the Mountcashel Brigade, where Jean, Comte O'Donnell, patriarch of the O'Donnell Counts in France, served under commission from King Louis XIV before the Jacobite forces arrived to form a new Brigade under James II, into which the Mountcashel Brigade merged.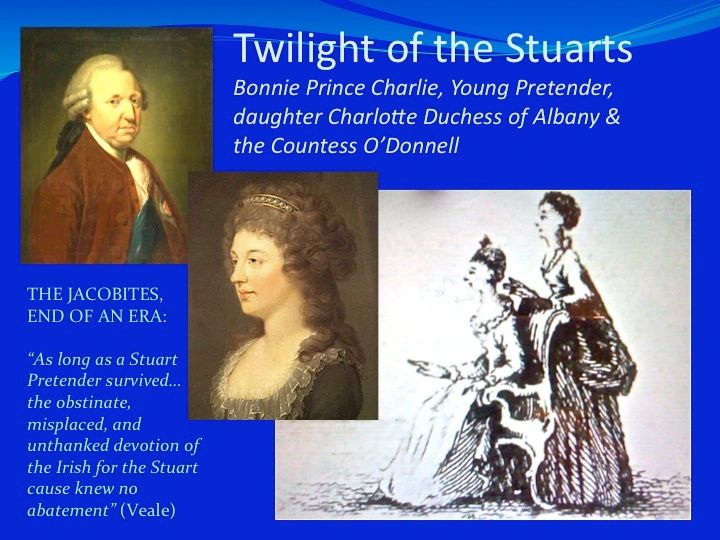 The Countess O'Donnell at the Stuart Court-in-Exile
Below is a sketch of Charlotte (1753-1789), the Jacobite Countess and later Duchess of Albany, seated and looking longingly over the English Channel, in hope of a return of the Stuarts. She was the illegitimate daughter of Prince Charles Edward Stuart, Charles III (Bonnie Prince Charlie), the Young Pretender, who however legitimated her in 1783 when she was already thirty years old, a move protested by his brother, Henry Cardinal Duke of York. Behind her stands her dame-of-honour, Marie-Anne de Cartigny, the Countess O'Donnell, an obviously very slender and elegant French lady.
She was the wife of Colomban-Hyacinthe Comte O'Donnell, and was selected for this role as the criterion was that the dame-of-honour should be "great lady who must ask that honour" i.e. not someone of low standing. They arrived in Florence in October 1784, proceeding to Pisa and then Rome, ending up in the Palazzo Muti, where they tended the ailing Charles III. Thereafter, it was said that the Stuart Court in Rome was well-maintained by Charlotte and the Countess O'Donnell, having reformed Charles' wayward habits and depression, and restored his dignity. He died in late 1788, in the company of his daughter, the Duchess of Albany, and the Countess O'Donnell.
The Countess then returned to Paris, where her own husband died a half-year later on the eve of the French Revolution. The Countess corresponded with the 8th Earl of Fingall, Arthur James Plunkett, and his Countess, Frances. The now-dowager Countess O'Donnell survived the French Revolution with her six-year old young son, Jean Louis Barthelemy Comte O'Donnell, who would later be celebrated in his old age as the "venerable Count O'Donnell", "Chef du Nom et d'Armes" (Chief of the Name and of the Arms) presiding over the descendants of the Irish Jacobite exiles, and in whose honour "O'Donnell Abu" was recited.